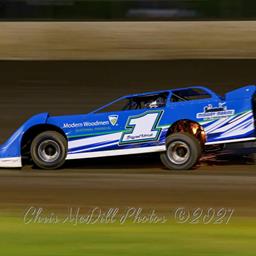 ---
Runner-up outing at Magnolia Motor Speedway in weekly competition
A week after a victory at Moulton, Bryant Marsh traveled to Magnolia Motor Speedway (Columbus, Miss.) for the first time in 2023 for the track's First Responder Night at the Mag event.
Laying down the fastest lap out of 10 CRUSA Late Models, Bryant started on the pole of the 20-lap main event and led the first 16 laps before giving up the lead to Randall Blacksmith. Marsh recorded a runner-up outing while Riley Sheedy completed the Top-3.
Full results from the event are available at www.MagnoliaDirt.com.
Back to News